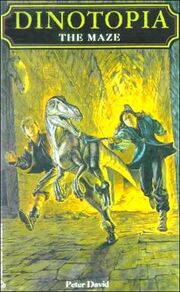 The Maze is the eighth of the Dinotopia digest novels written by Peter David.
Synopsis
This text appears to be a blurb. Help Dinotopia Wiki by re-writing this article, to the TOU, in your own words.
Please remove this notice once this page has been re-writen
"A master storyteller who has appeared seven times on The New York Times bestseller list, fantasy writer Peter David joins the popular Dinotopia middle-grade adventure series with a gripping new tale. A witty young Raptor, Booj, teams up with Jason and Gwen to search for the legendary Odon, a Raptor who long ago became a recluse. To find him, the three friends must survive the dangerous traps of Odon's underground maze. No matter the challenge, they must succeed, because only Odon has the cure for the mysterious disease that has afflicted Gwen's father. It's a life-and-death journey and another thrilling story in the amazing world of Dinotopia."
Ad blocker interference detected!
Wikia is a free-to-use site that makes money from advertising. We have a modified experience for viewers using ad blockers

Wikia is not accessible if you've made further modifications. Remove the custom ad blocker rule(s) and the page will load as expected.