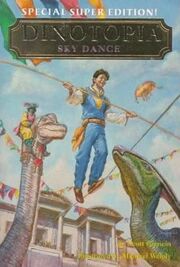 Sky Dance is the tenth of the Dinotopia digest novels written by Scott Ciencin.
Synopsis
This text appears to be a blurb. Help Dinotopia Wiki by re-writing this article, to the TOU, in your own words.
Please remove this notice once this page has been re-writen
"Since he was small, Marc has wanted to be a tightrope walker - even though he has no sense of balance and a fear of heights. His buddy Gentle, a Parasaurolophus, dreams of being a musician - even though his notes are wildly out of tune. Through sheer determination, the two join a troupe of traveling entertainers. They learn quickly, but their new found skills are put the test when tragedy strikes. A Sky Galley is sent wildly out of control during a terrible storm. Only an aerialist like Marc can save the passengers. But performing isn't easy when lives are on the line!"
Ad blocker interference detected!
Wikia is a free-to-use site that makes money from advertising. We have a modified experience for viewers using ad blockers

Wikia is not accessible if you've made further modifications. Remove the custom ad blocker rule(s) and the page will load as expected.