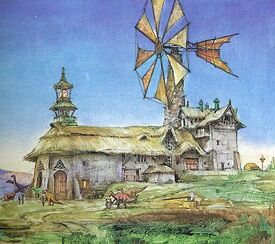 Romano'sHatchery
is located on the northwest coast of Dinotopia. It is where dinosaurs go to lay the few eggs they produce in their lifetime.
Arthur and Will Denison were taken there by Sylvia Romano.
The Hatchery contains:
A nesting room
A pipe organ designed for large feet
A resting chamber
An incubation room
Human sleeping chambers
Living and dining areas for humans
Guest quarters for the humans who travel with expectant dinosaurs
A windmill for power generation
A signal tower that houses a sunstone
Both human and dinosaurs tend the eggs. Notably, the ovinutrix, known elsewhere as oviraptor.
Ad blocker interference detected!
Wikia is a free-to-use site that makes money from advertising. We have a modified experience for viewers using ad blockers

Wikia is not accessible if you've made further modifications. Remove the custom ad blocker rule(s) and the page will load as expected.