"Side by side, the people and dinosaurs crowd the broad avenues, the street markets, the grand open-air theaters." — Arthur Denison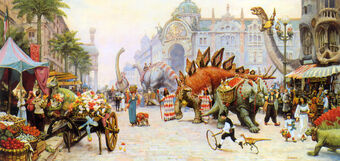 Pooktook
is a
Pelledrine
city near the northeast coast of Dinotopia. Its a very busy city with wide streets, open-air theaters and marble fountains. Curried food and cider are popular in this cosmopolitan city.
Arthur
and
Will Denison
met
Lee Crabb
at dusk in Pooktook.
Ad blocker interference detected!
Wikia is a free-to-use site that makes money from advertising. We have a modified experience for viewers using ad blockers

Wikia is not accessible if you've made further modifications. Remove the custom ad blocker rule(s) and the page will load as expected.