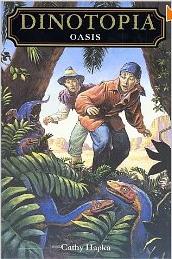 Oasis is the sixteenth of the Dinotopia digest novels written by Cathy Hapka. It was published in October, 2002.
Synopsis
"Jack and Ty are opposites. So when they travel together in a caravan across the Great Desert, there are bound to be disagreements. And when a sandstorm separates the boys from the rest of their group, the arguments get worse. Then they stumble upon a legendary oasis where they find a lost colony of small dinosaurs called Saltopus. Somehow, Jack and Ty must put aside their differences long enough to befriend the shy dinosaurs–and figure out how to help them!"
Ad blocker interference detected!
Wikia is a free-to-use site that makes money from advertising. We have a modified experience for viewers using ad blockers

Wikia is not accessible if you've made further modifications. Remove the custom ad blocker rule(s) and the page will load as expected.