This text appears to be a blurb. Help Dinotopia Wiki by re-writing this article, to the TOU, in your own words.
Please remove this notice once this page has been re-writen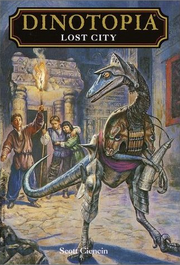 Lost City is the fourth of the Dinotopia digest novels written by Scott Ciencin.
"Andrew, the son of a Dinotopian innkeeper, makes a strange discovery one night when a hooded dinosaur leads him and two friends to a remote, sealed-off city. When they begin to explore the forbidden area, the trio are thrust into a dangerous adventure--one they can survive only if they can put aside their chronic rivalries and come to understand the lost race of Troodons, who have existed there in seclusion for centuries."