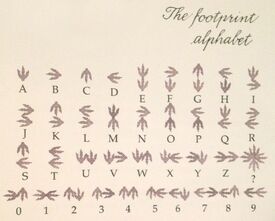 The Footprint Alphabet was used mostly by three-toed dinosaurs, which were the best scribes[1], to write messages in sand on riverbanks or beaches. They wrote anything from warnings to jokes. Most Dinotopian writing is written out in sandboxes — this saves on paper scrolls, since it is easier to erase. The scribes, while 'writing', act more like dancers; hopping, twisting and stepping to make the right marks.
Will Denison learns the alphabet in Waterfall City.
References
↑ Dinotopia: A Land Apart from Time page 75, written by James Gurney, published by Crawford House Press.
Ad blocker interference detected!
Wikia is a free-to-use site that makes money from advertising. We have a modified experience for viewers using ad blockers

Wikia is not accessible if you've made further modifications. Remove the custom ad blocker rule(s) and the page will load as expected.