Armakia was one of the four ancient empires of Dinotopia during the Age of Heroes. Armakia encompassed the Forbidden Mountains and the Armakians were rugged nomads following their flocks of ice-age mammals from their lowland winter pastures to their summer grazing areas in the highlands.[1]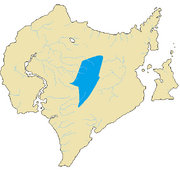 Using wood hauled by great mammals such as
Brontotherium
, the Armakians constructed great strongholds like
Sky City
and
Thermala
. Armakians were traditionally antagonistic towards dinosaurs, preferring the mammals of the mountains. Border guards riding creodonts like
Andrewsarchus
protected their southern borders from
Chandaran
raids.
[2]
References
↑ Dinotopia: First Flight: 20th Anniversary Edition, p. 97
↑ Dinotopia: First Flight: 20th Anniversary Edition, p. 98